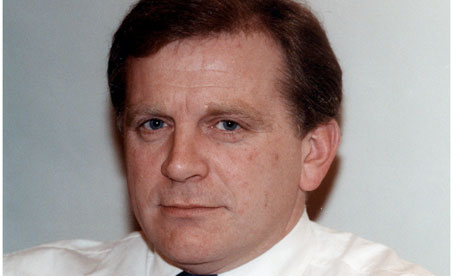 Almost every night in Rwanda during the four years in which he participated in the Conservative party venture Project Umubano, Christopher Shale would sit on the steps of a Christian mission. There he stayed with other volunteers, drinking what everyone agreed was filthy Kenyan brandy – which he personally imported – howling with laughter at the stories and experiences being exchanged, and with the sheer joy of being alive.
He had an irrepressible delight in everything he did. His friend Andrew Mitchell, the international development secretary, who conceived the initiative five years ago, and was himself no stranger to Kenyan brandy, said that Shale's company was like "a constantly open bottle of champagne".
Shale enthused everyone with whom he came into contact, including many hundreds of Rwandans whose lives he was trying to help improve. He became involved in the scheme through the recommendation of David Cameron: it aimed to assist the devastated country in the wake of the 1994 genocide by aiding the restoration of public services, justice, education and business enterprise. According to Mitchell, Shale's participation in Rwanda changed his life probably as much as he attempted to change the lives of others.
Shale, who has died unexpectedly at the Glastonbury festival at the age of 56, was chairman of the West Oxfordshire Conservative Association and a respected adviser and close friend of the prime minister. They shared an exceptional level of trust. Shale was a crucial figure in securing the selection of Cameron as the potential Conservative candidate for Witney in succession to Shaun Woodward, who had defected to the Labour party in 1999, but remained the MP for the constituency until the 2001 general election.
After Cameron succeeded Woodward as MP, Shale's role gradually evolved to become one of considerable significance in party policy-making, particularly after Cameron was elected Conservative leader in 2005. He was a director of the Centre for Policy Studies, the rightwing thinktank inaugurated by Sir Keith Joseph, and a member of OpenEurope, another Conservative eurosceptic grouping. He had never wanted to become an MP himself, but was fascinated by politics and its potential.
He became chairman of the West Oxfordshire association six months ago and had been instrumental in trying to spread his political message in the schools of his area every bit as much as in Rwanda. He was full of ideas for political fundraising and established a Principal Patrons' Club to persuade party supporters to part with their money.
Cameron trusted his judgment and, above all, his invaluable asset of discretion. On the day of Shale's death a memorandum he had written about the shortcomings of his local party had been leaked to the Mail on Sunday. Although the memo was specific to West Oxfordshire, it is understood that Shale regarded it as a blueprint for the Conservative party in the country, which helps explain Downing Street's anxiety about the leak ‑ and not least because Shale had said in the document that the Conservatives came across to the public as "graceless, voracious, crass, always on the take". His views were respected in No 10 because of the breadth of his experience, his humanity and his ability to relate to others of any background. It was entirely typical that he was at the Glastonbury festival, which he regularly attended.
He was born in Northamptonshire, though his family would later settle in Edinburgh, and was the eldest of five children. He went to Oakham school, Rutland, an establishment with a proud sporting reputation, where he was an opening bowler in the cricket team and played rugby without making any concession to his difficulties as an asthmatic, nor that of having been born with only two fingers on his left hand. He became head boy and then chose Sandhurst over the opportunity to go to university. In 1975 he joined the 17th/21st Lancers with a short-service commission.
After a successful army career, which he enjoyed as much as everything else he did, he decided on a career in public relations. He cut his teeth with the company of the cricketer and sports commentator Neil Durden-Smith before setting up companies of his own, promoting luxury products. He briefly employed Sarah Ferguson, before her marriage to the Duke of York, as a temporary secretary, and she is a godmother to one of his sons. More recently he established Oxford Resources, a management consultancy company, and a property company, which he operated from his home in the Cotswolds.
He is survived by his wife, Nikki (Nicola), by their son, and by her son and daughter from a former marriage.
• Christopher Michael Henry Shale, businessman and politician, born 23 August 1954; died 26 June 2011