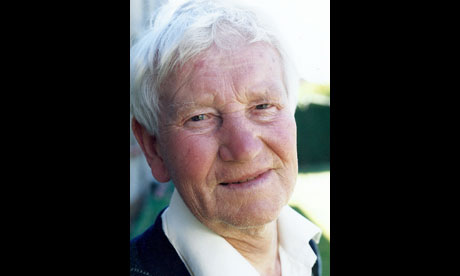 In 2007, my father, George Jamieson, who has died aged 97, received an award to recognise 75 years' continuous membership of the Labour party. George took a critical interest in international and national social, economic and political affairs.
For many years he worked on committees of the Edinburgh Central Labour party, and also served as secretary of the Edinburgh Fabian Society for 25 years from 1962. Only poor eyesight and hearing in his later years restricted him from keeping abreast of the latest political news.
Born on a croft in Shetland in an era when running water, gas and electricity were still some decades away, George worked his way through the local primary in Uyeasound and Anderson high school in Lerwick. He won a final-year essay prize for a scholarly account of the social and economic development of the Shetland Islands during the previous 100 years.
George graduated with a BSc degree and a diploma in rural economy from Edinburgh University. By the late 1930s he had secured his first teaching post, at Kirkcaldy high school in Fife.
At the outbreak of the second world war, George joined the Royal Scots. Based on his experiences in the Army Educational Corps, he contributed to an academic study of young delinquent soldiers by Professor Joseph Trenaman, published as Out of Step in 1952.
Returning home in 1946 to his wife, Amy, whom he had married in 1941, and a young son, George taught in secondary schools in Selkirkshire and Midlothian before switching to primary schools. He retired from the headship of Stobhill primary school, Gorebridge, in 1978.
Throughout his teaching career George displayed an interest in novel teaching methods and technologies. He continued to embrace technology in retirement, acquiring his first computer in his late 80s, and was an accomplished email correspondent until the age of 95.
George had a longstanding interest in writing. He attended writing classes and made a modest impact with his short stories, which were published in local newspapers and magazines. Plants, both garden vegetables and arable crops, were always an interest. Except during the war years, he spent several weeks each summer inspecting the seed potato crop in north-east Scotland. George was always able to recognise potato varieties and, particularly, their diseases. Moving from his house with a garden when he was 92 was a great blow to him.
Hill-walking was one of his lifetime passions. George was a regular member of the Edinburgh Holiday Fellowship, taking his share of planning and leading group walks. Quite late in life, as opportunities for more foreign travel arose, he travelled to India, central Asia and South Africa. In his 70s he dabbled in cross-country skiing in Switzerland.
George is survived by Amy; my sister, Wendy, and me; two grandsons, Andrew and Matthew; and a great-granddaughter, Eva, who was born a month before he died.