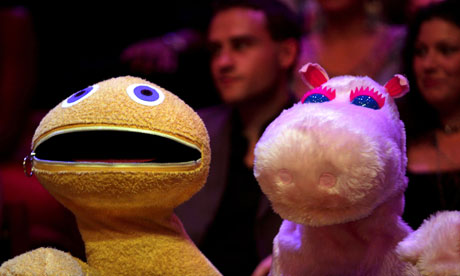 Roy Skelton, the voice of the Daleks and George and Zippy from Rainbow, has died aged 79.
He brought Doctor Who's arch-enemies to life between 1967 and 1988, and also provided voices for the Cybermen.
But viewers will probably know him best as the voices of Zippy and George, the orange and pink puppets from ITV's long running children's show Rainbow.
Geoffrey Hayes, who fronted Rainbow, told BBC News that Skelton was "fabulous at improvising if something went wrong".
"The most wonderful thing was if Zippy and George were having an argument between themselves, it sounded like he'd double-tracked it as they seemed to be talking over each other. It was a wonderful technique and I don't know how he did it."
Rainbow was axed in 1992, but Skelton reprised Zippy's voice in the BBC1 retro-drama Ashes to Ashes in 2008.
Skelton's daughter Samantha told the BBC her father had died after suffering a stroke.