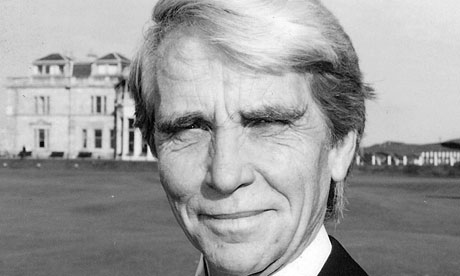 Among the ranks of golf historians, David Malcolm, who has died aged 71, was outstanding. He combined the rigour and discipline of a scholar in his meticulous research, carried out mainly in the archives of St Andrews University library and New York public library, which he then transformed into an eminently readable and stylish prose in the many articles he wrote for the Guardian, the New York Times, Golf Monthly and the Scots Magazine. It was an exacting approach which culminated, after 15 years of painstaking work, in his definitive Tom Morris of St Andrews: The Colossus of Golf, 1821-1908 (2008), co-authored with Peter Crabtree.
A dogged and persistent detective, David also followed up the case of the St Andrews golf champion David Strath, who had emigrated to Australia in 1879 but died shortly after arrival. With the help of a co-author, Noel Terry, he located the place of burial and helped raise funds for a headstone. A handsome posthumous publication on the Strath family of eminent golfers is now under way.
David's sharp eye for detail was instrumental in drawing the attention of the Links Club in New York to the importance of one of its paintings, The First Meeting of the North Berwick Golf Club by Sir Francis Grant RA, which was, as he pointed out, the first action painting of golfers, as opposed to figures standing with clubs in hand.
He was born in Coaltown of Balgonie, Fife, and educated at Waid academy in Anstruther, the East of Scotland Agricultural College in Edinburgh, and Edinburgh University. He joined the department of zoology at St Andrews University in 1972 before becoming a science teacher for 20 years at Madras college in St Andrews.
He was a superb raconteur, a maverick teacher, generous-spirited, great fun and great company. Doc Malc, as he was affectionately known, was involved in the re-establishment of the Kingsbarns' Golf Club in Fife and the development of its links. A keen golfer, a life member and former captain of St Andrews' New Club, he also had wide-ranging interests and enthusiasms beyond the Old Course, from poetry, literature, jazz and gardening to supporting Arsenal Football Club.
He is survived by his wife, Ruth, two sons, a stepdaughter and two grandchildren.