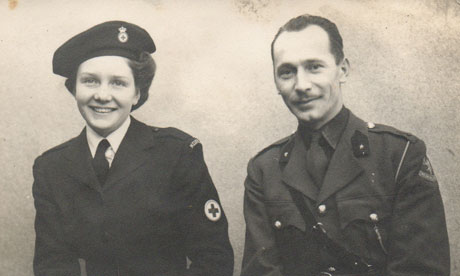 Towards the end of the second world war, my aunt and godmother, Evelyn Kuypers, who has died aged 92, gave herself a special mission as she drove through the newly liberated Netherlands – to visit her in-laws for the first time and introduce herself.
As a truck driver with the VHK, the Dutch women's voluntary corps, she had followed the liberating troops from Ostend, through Belgium and into the Netherlands, giving first aid and food to the many refugees. She had switched to the VHK from the Dutch Red Cross in an attempt to stay near to her husband, Henricus "Henk" Kuypers, a paymaster with the Dutch war office, who was also with the support troops. Although she spoke no Dutch, she managed to track down her in-laws' home, where she was overjoyed to find that Henk was there to greet her.
Their marriage in Congleton, Cheshire, in 1942 was the start of a globetrotting life for Evelyn (nee Ogden), who hailed from the village of Mow Cop, on the Cheshire-Staffordshire border. She had met Henk the previous year when Dutch servicemen regrouped in Congleton following the Nazi invasion.
After their marriage, they moved to London with his unit until, in 1944, Evelyn's VHK party set sail from Tilbury for Ostend, only to be prevented from landing by severe storms. Lying off the coast, they then lost an anchor and were drifting towards a mined area when the captain decided to return to England. A week later the vessel successfully landed at Ostend.
In 1946 Henk was posted to the Dutch embassy in London. The couple lived in South Kensington for 10 years and had two daughters, Elizabeth and Patricia. Henk's career then took the family to Hong Kong, Johannesburg, Karachi, Edmonton, New York and Bombay (now Mumbai), where he retired as consul-general.
While the family moved around the world, the vivacious Evelyn worked for Catholic charities and schools at each posting. On Henk's retirement in 1978, they settled in St Margaret's Bay, near Dover, where Evelyn immediately declared that she was neither ready nor willing to start taking it easy and, almost until the end of her life, was a staunch volunteer worker for the National Trust, the local Pines gardens and museum, the village charity shop and meals on wheels.
Henk died almost exactly a year before her. She leaves her daughters and four grandchildren.